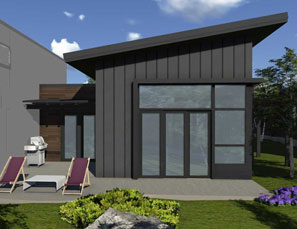 Click for a larger image
Thoreau

All depictions are based on our current design plans and are subject to change.
The Thoreau

1,165 to 1,240 square feet

The Thoreau is our "cottage" townhome. It is a single story and scaled smaller than our other models, in the spirit of the writings of Henry David Thoreau.
The Thoreau deftly demonstrates that a smaller living space can be refined, comfortable and highly functional. This home is elegant and generous in its simplicity. Inspired design concentrates the private functions into highly efficient spaces; yet the Great Room area provides from 435 to 490 square feet (depending on the options chosen) in a spacious, open area filled with natural light from two full walls of windows. Optional skylights bring daylight into interior spaces as well.
The Master Suite opens to a private courtyard/patio and the Central Garden beyond – a perfect space for entertaining or quietly reading a book. The patio/courtyard can be entirely hardscape, your own private gardening space, or whatever mix of the two you desire, and as an option can be extended to cover the full width of the townhome.
The Thoreau provides full ground floor living, with no stairs or steps. There is significant storage on one full sidewall and the front wall of the garage.
For those seeking to downsize or simplify, the Thoreau offers the best of this concept in a very special setting.
Click here for Thoreau floor plans.
To contact us for more information about Bella Terra, click here.