Gallery of Townhome Models
The Emerson and Walden models, below, are available in the current construction phase. A third townhome option, The Thoreau, is anticipated to be available in future construction phases. The Thoreau is our "cottage" townhome. It is a single story and scaled smaller than our other models, in the spirit of the writings of Henry David Thoreau -- "Simplify, Simplify, Simplify."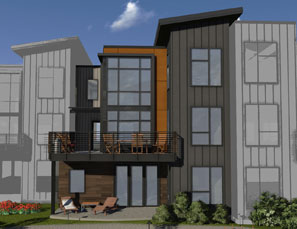 The Emerson townhome is our most flexible and dynamic model. It can be either two or three stories, features a spectacular terrace overlooking the Central Garden, and even offers options for an elevator or a three-car garage. Choose from four distinct ground level floor plans, including a physically separate "home within a home."
2 or 3-story models
2,206 to 3,468 square feet
1 - 4 bedrooms
2.5 - 3.5 bathrooms
2 -3 car garage
Spectacular Terrace integrated into main (2nd) floor living
Accommodates optional true Gourmet Kitchen
Four distinct ground floor options, including no-stairs ground floor living
Ground & 2nd floor entertainment areas
Covered ground floor patio opens to Garden
Click here for more information and floor plans.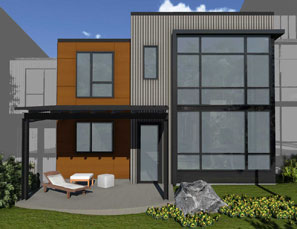 The Walden townhome offers complete ground floor living that opens directly into the Central Garden. The standard model is a single story, with the option for a one or two bedroom second story.
1 or 2-story models
1,479 to 2,357 square feet
1 to 3 bedrooms
2 - 2.5 bathrooms
Accommodates optional true Gourmet Kitchen
Large (534/565-square-foot) Great Room
2-car garage
Click here for more information and floor plans.