Our vision for Bella Terra began with the Central Garden, which can be described in one word. Spectacular.
It's not a word we use lightly.
The approach to Bella Terra's design was key to achieving our vision.
It was a collaborative group effort by our team of top architects and landscape architects, resulting in a fully integrated setting that provides the maximum connection of each home to the Garden.
In that spirit, our garden concept was laid out first, the townhomes were then designed specifically with the garden views and connection as the primary criteria. Once the basic layout was completed, we evaluated every aspect of the plan and made dozens of adjustments to the garden and townhome designs to maximize the residents' connection to the garden and to maintain their privacy.
Meticulous attention to detail has gone into the design of the townhomes that encircle The Central Garden -- a series of ponds, waterfalls and lush gardens. Varying landscape elevations increase privacy from homes across the Garden while providing a view designed to nurture the spirit. In the Central Garden, and throughout the community, the food forest of edible fruits and plants, along with a variety of flowers and foliage, provide beauty and fresh garden produce for residents. Click here to see photos and videos of the townhomes, gardens and water features.
Bella Terra provides a lifestyle that surrounds each home with the sights, sounds and scents of a garden paradise. It offers a balance of privacy and community, and a location with convenience to the city in an oasis of beauty. With exterior maintenance and care of the Central Garden provided by the homeowners association, Bella Terra offers carefree living without giving up the joys and beauty of a home in a garden.
Bella Terra offers several distinct townhome models, as well as major floor plan choices. These include ground floor living, larger garage/enhanced storage, second and third levels, and more. Click here to view the Bella Terra townhome models.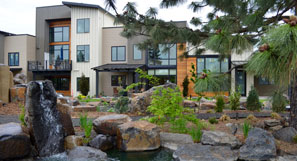 You could move to Bella Terra for just the wonderful townhome designs, or for just the pleasure of living in the magical garden setting, or for the peace of the secluded South Hill setting so close to amenities. Any of these three qualities alone make Bella Terra a special place to live. Together, they make Bella Terra a truly unique opportunity.
In a world that can be noisy, hectic, filled with multiple distractions, and lacking any sense of natural order, Bella Terra provides a home base that will enable you to relax, re-focus and re-energize, letting you pursue your activities and relationships with a more centered and clear state of mind.
To contact us for more information about Bella Terra, click here.