The Emerson

2,576 to 3,820 square feet
Click here for Emerson photos and videos.
The Emerson townhome is a unique, dynamic and flexible model. It is the only model to include a terrace on the second story, which provides spectacular views of the Central Garden and extends your entertaining space off the already spacious Great Room area. In addition, it provides a large, covered, ground floor patio, offering an additional space for entertaining or relaxing.
The Emerson also has several options for adding a Rooftop Terrace, including full Penthouse Living in the 3-story "Oasis" model. Rooftop Terraces can be reached via stairs, as well as by elevator, if the owners have chosen to have one installed.


All Emerson models are elevator ready. The elevator can be installed during initial construction, or, can be easily installed in the future should your health circumstances change.
The second story is the main living area, with four distinct kitchen options. There is an optional third floor, and there are four distinct first floor options, including a fully "Self Contained Living Suite" where an elderly parent, an adult child, a nanny, one of the owners or a guest could live long term in what is essentially a separate home-within-a-home.
Main (2nd) Floor
Kitchen: Our spacious kitchen allows for traditional fixtures and quality appliances, or upgrades to separate high-end appliances and other features that provide a true gourmet kitchen. There are four distinct kitchen options to best meet your personal preferences. The kitchen can be outfitted with a built-in wine cooler, warming oven, and other specialty appliances.
Great Room: The Great Room is a very large open space flooded with natural light from a wall of glass facing the Central Garden. If you select a three-story Emerson model, the Great Room opens to the third floor, providing a dramatic two-story wall of glass. The Great Room and kitchen combine for almost 1,000 square feet of open space – perfect for entertaining. The nook provides a cozy alternative to the spacious Great Room.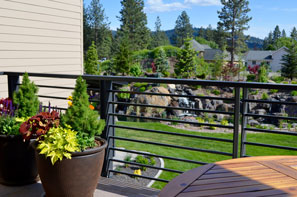 The Terrace: Every Emerson model includes a covered terrace that opens directly into the main living area, creating a true integration of indoor and outdoor living. Combined with the Great Room & kitchen, it provides over 1,000 square feet of space on the main floor for entertaining, accommodating large groups as well as intimate gatherings.
The terrace and expansive windows in the Great Room provide beautiful views of the garden and fill the room with natural light.
The terrace has an option for structural design to support a hot tub for those who want their view of the garden to be from hot steaming water (available only on certain pre-sold units).
Rooftop Terrace Options: There are multiple rooftop terrace configurations for both 2- and 3-story Emerson models, including total rooftop living in the Oasis model, which is unlike anything else available in Spokane. The sweeping panoramic views from all the Rooftop Terraces feature our spectacular 60,000 sf Central Garden as well as the uplifting feeling of full sky views day and night.
The Oasis' rooftop level includes a spacious bedroom suite, private terrace off the bedroom, entertainment room, and a second garden-side terrace for a private getaway or spectacular entertaining.
The Rooftop Terrace can be reached by stairs, as well as by elevator, if the owners have chosen to have one installed.
Click here for the Emerson Main (second-story) floor plan with options.
Click here for the Emerson Rooftop Terrace option floor plans.
Third Floor Option
If you select a three-story Emerson townhome, the third floor provides an additional bedroom, plus a loft area, along with a spacious bathroom, and additional storage. A large section of the loft opens dramatically to the second floor below, while the rest of the loft continues to the nook, providing a private intimate space with spectacular views of the garden.
Click here for the Emerson third-story floor plan.
First Floor
We offer four different First Floor configurations to best meet your needs. All four of these ground-level options include:
Media wall with optional gas fireplace
Covered patio that opens into the Central Garden.
Kitchen Choices

*

:

Flex Space/No Kitchen
Wet Bar/Fireplace
Kitchenette/Wet Bar
Full Kitchen

There is also an option for a ground floor laundry room.

*

A side-by-side comparison of the ground floor kitchen options is provided in the floor plan for Multi Function Flex Space.

Garden Nook: This cozy nook, about 9' X 9', provides a private space for reading, conversation, or a corner desk unit. With its stunning views of the Central Garden, the nook offers a truly relaxing private getaway. <
While the common amenities listed above apply to all four ground-level floor plans, each overall floor plan is laid out differently as described below:
Multi Function Flex Space: This is the "basic" floor plan for the first level. It includes full bath, optional washer/dryer hookup, large open area with space for whatever you decide -- media room, entertaining, man cave, bed or sleeper couch, other. Click here for floor plan.
Option 1 - Guest Suite with Extra Garage Storage: This floor plan provides additional garage storage to enhance the functionality of the space if it is serving as a guest room, or simply provides additional storage space. Full bath, closet, space for bed or sleeper couch, optional washer/dryer hookup, large open area for whatever you decide -- media room, entertaining, man cave, sleeper couch, other.
Option 2 - 3-Car Garage with Maximum Storage: This option, available only on certain presales, provides space for a third car, golf cart, small boat, or simply a huge amount of storage space. Space remains for a full bathroom, a full or partial kitchen, a rec/family room that can become a complete living space with the addition of a sleeper sofa. (Lineal kitchen may not be available with the 3-Car Garage floor plan.)
Option 3 - Private Bedroom: This option adds a private bedroom that could also be used as an office, art studio, craft room, etc. when the ground floor level is not being used as a separate residence within the home. With this option, the Emerson provides two homes in one and the ability to live without steps and stairs should that become temporarily necessary due to an accident or illness. Private bedroom, full bath, walk-in closet, living room area with nook space. Option for washer/dryer hookup.
Option 4 - Private Nook Office/Bedroom: This option creates a second, smaller private office/bedroom on the ground floor. It can be used in conjunction with any of the ground floor options described above.
Click here for First Floor Options floor plans.
Emerson Townhome Floor Plans
All Emerson townhomes have the main living area on the 2nd floor, with the option of a 3rd floor for additional space. In addition, all Emerson Townhomes are elevator-ready or the elevator can be installed during initial construction. The ground floor of the Emerson can be configured in one of 4 ways, and there are also 4 options for a ground floor kitchen.
Click here for Emerson Main (2nd) Story Floor Plan
Click here for Emerson 3rd Story Floor Plan
Click here for floorplans for the 4 Emerson First Floor Options, as well as a link to the floor plans for the 4 First Floor Kitchen Options.